Each year my Dad very generously buys myself and Mum a spa day for Christmas or Birthday. We have been to a couple in the area, but thought we would try something different this year. I had researched on his behalf and found a great offer on Travel Zoo, which you can see here:
'' For £35, the 4-star BeltonWoods in Grantham is offering a
spa day including two treatments
, all-day access to the facilities, and a coffee and a Danish pastry on arrival.''
Robe, towel and slipper hire, and full use of the leisure facilities for the day; a coffee and a Danish pastry on arrival; plus two of the following treatments of your choice: a 25-minute personalised express facial, a 25-minute back, neck and shoulder massage, a 25-minute invigorating foot treatment, a 20-minute file and polish for the fingers, and a 20-minute file and polish for the toes
Alternatively, you can go with a friend and get the same deal for £69
20% off additional treatments or food and beverages purchased on the day per person''
Perfect. It looked to be a great deal compared to their usual prices which you can see
here
Although we had booked the day a while ago, we spoke to reception on Friday to tell them which of the 2 treatments we would like and they booked us in for 10am on the Monday (the day of our visit). We were told to get there for just after 9am where we would be shown around and have time to get ready for our treatments. We arrived at 9:10 am and were told by a young guy (possibly a student) that they spa doesn't open until 10am. We decided to go to the restaurant and have a hot drink whilst we waited. At 9:30am we headed over again (9:30am is the time it says it officially opens on the voucher) and all the girls were stood in reception, we were let in at 9:50am. They ticked us off like a register and asked us to fill out the 'first time visit' forms. The seated area at the spa was quite small and we thought it was strange the doors were painted black as that's not a very calming colour? In all honesty it all could have done with a bit of a make- over/refresh.
It was now 10am and our treatments were about to start. I was having the back massage and then a manicure (Mum had the facial and massage) the girl I had asked me if I had any trouble areas and I explained that I did (tight muscles thanks to working out) I must say the massage was great; she really did a wonderful job. However, it wasn't very personal. I didn't know any of the products she was using and it felt very rushed and a case of getting me out ASAP for the next 30 minute slot. Afterwards she said she would meet me in the beauty area. It would have been nice to have been offered a drink of water. As I made my way out, she was showing someone else in.
Although
advertised
as just a 'file and polish' it would have been nice to have had a quick hand treatment or something a bit more special and
luxurious
. The colour selection was ok, I picked a deep purple shade. She was really friendly and we had a great chat, you could tell she had a great passion for what she does and that really did come across. By now it was 11am and our treatments were finished, I asked if we could book on for anything else (with it being Mother's Day soon I wanted to book something for my Mum) only to be told everything had gone. I wasn't very happy about this, why weren't we told when we arrived that to book then?
After this we thought we'd head to the pool area. I obviously didn't give my nails enough time to dry as I smudged them and then had to go back and take the polish off. This was my fault and nothing to do with the application. The hot tub/
Jacuzzi
was full, I believe there were 6 people in there. We went to the pool, which was warm. We were however only given a section of the pool as there was an older ladies exercise class happening at the same time with music and shouting... not very relaxing! I went to the sauna and steam room; again they were ok but nothing special. The same people were still in the hot tub after half an hour so we decided to call it quits.
At 11:45am we decided to go and get our hot drink and pastry at the restaurant, it was very busy in there and we did have to wait a while for our drinks but they were nice as were the pastries.
We had left Belton House by 12:30pm, so much for a spa day hey?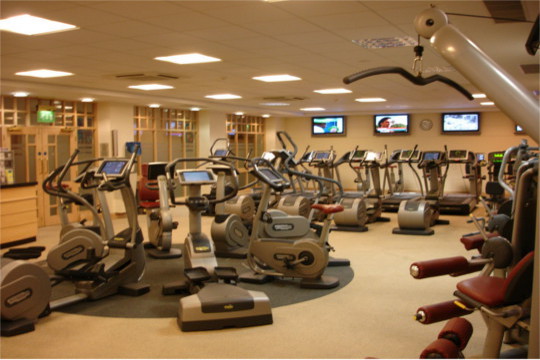 This place is advertised as a spa, it is not. It's a hotel with a spa. There is nothing relaxing about it at all, it's far too busy with members of the public (gym members, golfers, hotel guests) to feel like you're somewhere special and nothing about the experience was personal at all. It would have been nice to have had a reading room or somewhere with a bit of quiet. It was being cattle at a cattle market! I
wouldn't recommend going here at all and I certainly won't be going back. We both said Eden Hall is much better value for money and we'll just go there from now on.
Although I did have a great day with Mum, we went out for lunch and a bit of shopping in the afternoon, I felt like I'd wasted a days holiday as I could have done this any time with my Mum.
I don't like to bring
negatively
to my blog but at the same time I don't like being sold something which wasn't as
advertised
. I'm just glad we only paid a fraction of the price compared to the usual prices!
Please note that Belton House is lovely and situated in stunning grounds.
This review is solely about the spa.